Being a trial member of the 14th century re-enactment group Fraternis Militia Carnis I was invited to the carnival at the annular meeting. I decided to dress up as a popular medieval saint, Catherine of Alexandria. For this I needed some "fancy clothing". So I decided to make a yellow silk sidless surcoat, something that also have a home in my "normal medieval wardrobe".

It is made in silk tafetta and is flat lined with a thin wool fabric to give the right drape of the fabric. I choose to machine wash the silk and wool before sewing, that was a good thing as I was spilled on after 30 minutes, meat on silk dress leaves a stain, but most came of after a go in the machine.

I also made a front and back gusset even if all extant sidless surcoats are with only side gussets. But based on manuscripts the fullness seems sometime to also be in front of the sidless surcoat. But if you wish to make it without I would advice you to make the side gussets a bit wider in the hem.

The whole dress is sewn by hand with running stitches with silk thread, back stitches are kind of unnecessary as there is no strain what so ever on the seams in this kind of dress. The seams are then sewn to the wool lining with not to big stitches.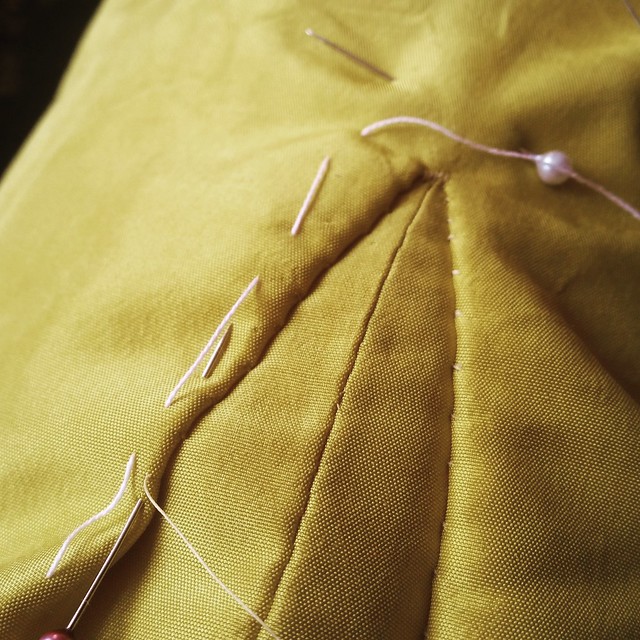 I finished the neckline with stab stitches and will probably do the armholes as well. I hemmed the neckline with a single fold, but the armholes with a small double folded hem, as you can see it when it is worn. The bottom hem is a wider single folded hem.
This dress was made for me who is 176cm long, bust measurement 120cm, hip measurement 130cm.
The pattern is made in cm, click it to see a larger version.